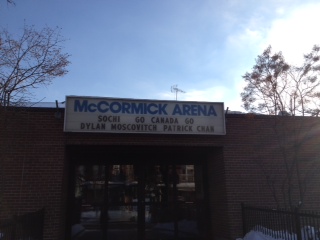 Welcome to WTSC
West Toronto Skating Club is an all-year (Summer and Winter) SkateCanada sanctioned, volunteer-run club at the McCormick Arena in the Lansdowne/Dundas area of Toronto. We run programs suitable for everyone from the newest beginner (children and adult) to the most skilled figure skater, staffed by qualified SkateCanada coaches. Whether you want to jump and spin with grace and style, speed across the ice with a hockey puck or just have fun participating in this great Canadian recreational activity we have a program for you and your family!
Hope to see you soon at the rink!
We want your help: Spring is around the corner!
posted Jan 28, 2016 12:16
We want your help to plan our Spring (May/June) CanSkate sessions. What day can you and/or your skater take lessons?
Click here to fill out the short survey!
Spring/Summer info and registration will be released later in March!
FAMILY SKATE SATURDAY DEC 12, 2015
posted Dec 09, 2015 12:51
We are happy to once again welcome the family members of our Fall skaters to join us in our Family Skate immediately following the Mini Olympics. Please note the following:
• ALL GUEST CHILDREN and ALL GUEST ADULTS need to wear CSA approved hockey helmets regardless of skating ability,
• NO hockey sticks, skate assist frames, strollers, etc. are allowed on the ice,
• Our registered member skaters must continue to follow the Skate Canada Helmet policy which states that all skaters up to and including those in CanSkate Level 5 must wear a CSA Approved hockey helmet on the ice,
• We must ensure no more than 90 participants are on the ice at one time
• We must record the names/contact info of participants
We understand this may seem extreme but we are required to follow the rules of Skate Canada in order to retain our status as a club in good standing. Unfortunately we cannot allow any family members on the ice without a helmet. Ask friends or neighbours if they have a CSA approved hockey helmet available to borrow.
The Potluck will take place from 6:30-8pm and we look forward to seeing many of you in the Nixon room before or after your skating adventures. Pizza will be provided by the club, please bring a dish to share (remember to take your dish home with you or leave your contact info on the bottom so we can return it to you).
West Toronto Skating Club AGM
The AGM closing out the 2014/15 season, and electing a new board for the period November 2015-2017 happened on Monday November 9th 2015.
The club welcomes two new board members, but there are still four spots available and we would love to hear from any member of the club (over 18) or the parent/guardian of a skater who can spare a couple of hours a month to serve on the board.
The President's Report for the 2014/15 season is posted in the "About Us" section.
Fall Test Day - November 19th 2015
The first test day for the 2015/16 skating season was a huge success with almost all of our skaters passing with flying colours. The next test day is planned for Febuary 2016 .
Skaters Competitions of all kinds are coming up!
The closing date for Keswick has arrived already, and will be followed shortly by our own Club competition, Snowflake and others. The closing dates are posted on the Club noticeboard beside the club office and on the StarSkate page on our website. Speak to your coach if you would llike to participate as all of them have events to accomodate every level of skater and every discipline.
Watch the club boards to see who has achieved competitive skating success.