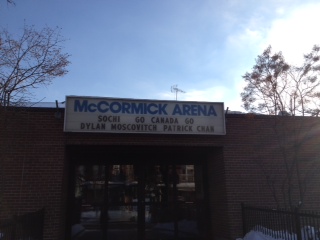 Welcome to WTSC
West Toronto Skating Club is an all-year (Summer and Winter) SkateCanada sanctioned, volunteer-run club at the McCormick Arena in the Lansdowne/Dundas area of Toronto. We run programs suitable for everyone from the newest beginner (children and adult) to the most skilled figure skater, staffed by qualified SkateCanada coaches. Whether you want to jump and spin with grace and style, speed across the ice with a hockey puck or just have fun participating in this great Canadian recreational activity we have a program for you and your family!
Hope to see you soon at the rink!
West Toronto Skating Club AGM - Monday November 9th 2015
We are a non profit, volunteer driven, volunteer organised, volunteer run, volunteer tidy-up-when-we're-done skating club, and we need all the help and input we can get from our members!
Your registration fees pay for the rental of the ice, group tuition from our professional coaches and the administrative expertise of Tanja in the office and a book-keeper. Everything else that happens in the club relies on volunteers, including making decisions about how your skating club is run. The next AGM is fast approaching and the club needs six adults who skate or who are parents/guardians of skaters to volunteer to serve on the board for a period of two years. The board meets once each month for about 90-120 minutes to discuss and make decisions in the best intersts of all members of the club. Please consider volunteering! Nomination forms are available in the skating club office.
The AGM closing out the 2014/15 season, and electing a new board for the period November 2015-2017 is planned for 6.30 pm on Monday November 7th 2015. Please come and contribute your questions, suggestions and offers of help to help the club run more smoothly, and join/vote for the new Board of Directors. It is hoped that every family can send a representative.
Fall Test Day - November 19th 2015
The first test day for the 2015/16 skating season is rapidly approaching! StarSkaters, please speak to your coach to find out whether you are ready to test, and what you need to work on to achieve your goals for the season.
All WTSC skaters follow a progressive, sequential program, devised by SkateCanada and delivered by our professional coaches. Our youngest skaters follow the CanSkate Learn-to-Skate curriculum, which teaches basic agility, balance and control skating skills needed by all skaters. Some of our CanSkate graduates tackle the PowerSkate program which is designed for hockey and ringette skaters and focuses on balance, power, agility, speed and endurance. Others glide into our StarSkate figure skating program, developing fundamental figure skating skills in the areas of ice dance, skating skills, free skate and interpretive skating. Progression in the StarSkate program is determined by the outside evaluation of a SkateCanada judge, on one of four or five testing days spread throughout the year. These are exciting occasions for our skaters to demonstrate their new skills and receive valuable feedback from the test judge. WTSC skaters usually have an excellant record of test success.
Watch the club boards to see who has achieved new heights in figure skating success. CanSkaters - don't forget to wish your PAs Good Luck on November 19th!
Skaters Competitions of all kinds are coming up!
The closing date for Keswick has arrived already, and will be followed shortly by our own Club competition, Snowflake and others. The closing dates are posted on the Club noticeboard beside the club office and on the StarSkate page on our website. Speak to your coach if you would llike to participate as all of them have events to accomodate every level of skater and every discipline.
Watch the club boards to see who has achieved competitive skating success.