This section is a global section that will be seen on all pages
Quick Links
(Click on the image for the Canadian Tire YouTube videos.)
How to fit for a hockey helmet


How to fit and lace hockey skates and figure skates


---
Helmet Policy

All Skate Canada member clubs and skating schools who offer a CanSkate program must ensure all CanSkate and Adult CanSkate participants up to and including Stage 5 must wear a CSA approved hockey helmet while on the ice.
This policy also applies to all other Skate Canada programs, therefore anyone who lacks good control/balance when skating forward, backward and has difficulty stopping, as well as maneuvering around obstacles on the ice must wear a CSA approved hockey helmet.
Clubs and skating schools must ensure this policy is enforced during all skating activities including competitions, carnival days or any other special on ice activities throughout the season for this level of skater.
This policy is a minimum standard. Sections, at their discretion, may impose a higher standard which all clubs and skating schools within the sections' boundaries must adopt and implement.


---
How to choose Skates for CanSkate

Hockey versus Figure Skates?
Skaters in the PowerSkate programs must wear hockey skates! Skaters in the Pre-CanSkate and CanSkate programs are welcome to wear either hockey or figure skates. There are some important differences between the two types of skates, but these don't matter too much at the early stages of skating (and falling over). Figure skates have less of a curve on the blade than hockey skates, which make them easier for some skaters. However, figure skates have 'toe picks' on the front of the blades which are a tripping hazard if you are not used to them. If your skater knows that they want to learn to figure skate (spin and jump etc.) eventually, it will speed things up if they start in figure skates.
Skates have to provide good support to Skater's Ankles
The most important thing to think about when buying skates in amount of ankle support they provide. A good pair of skates will provide firm support around the ankle, preventing your skater's ankle turning inwards or outwards as they stand on the blades. When skates are laced up snugly, the ankles should be straight in the boot so that the whole skate/blade becomes an extention of the foot.

Moulded plastic skates are not a good choice. They prevent the boot from flexing properly to allow the skater the required range of motion. Plastic skates with buckles instead of laces may be convenient for the parent but they often come loose leaving the skater with no support whatsoever.
Fitting Skates
Skates should fit more snuggly than regular shoes, particularly around the heel. A properly fitting skate should have no more than 1/2 inch of space at the toe. The skater should be able to wiggle toes inside the boot, but the heel should not move at all in the skate. There should be no more room than one finger space between the back of the foot and the skate. The ball of the foot should come just ahead of the point where the sole starts to cut in for the arch. This ensures the proper positioning of the arch and is extremely important. You should be able to pull the laces tight in the front and the tongue of the skate should be wide enough to prevent the laces touching the foot.
---
Lacing Up Tip Sheet (printable):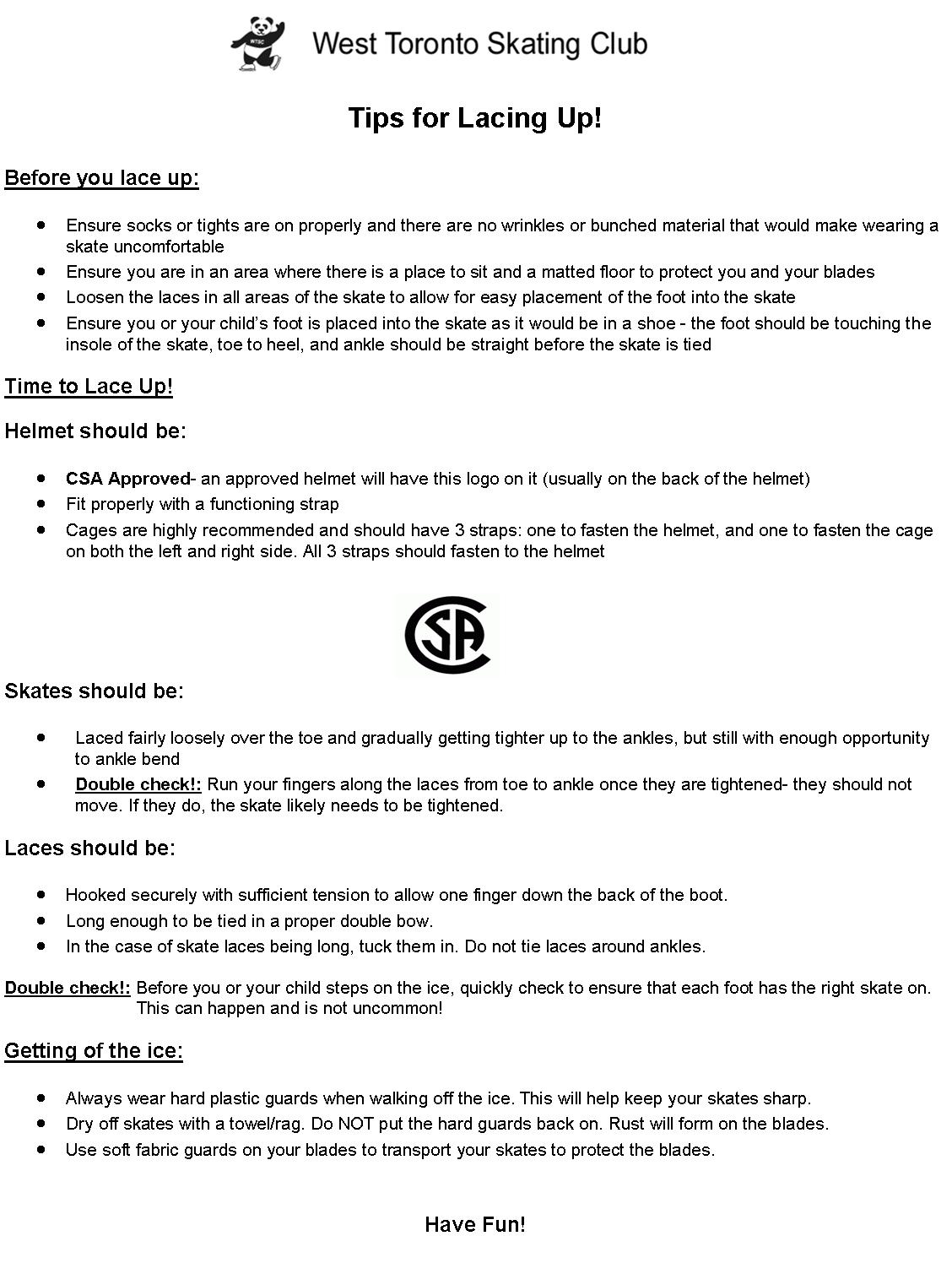 ---
Sharpening
The arena staff at McCormick Arena and many sporting goods stores will sharpen hockey skates blades. Figure skate sharpening in the area are: The Figure Skating Boutique (Richmond Hill), Jake's Skate Sharpening (Thornhill) or Esta (Mississauga).
---
What should my Skater wear?
All Pre-CanSkate, CanSkate and PowerSkate program participants must have a CSA approved hockey helmet until they pass CanSkate Stage 5. Full face masks are highly recommended. Bicycle, multi-sport and snowboarding/skiing helmets are NOT acceptable.

Pre-CanSkate and CanSkate skaters are welcome to wear either hockey or figure skates. Skaters registered in PowerSkate sessions must wear hockey skates and full gear including stick. Molded plastic skates with velco closures are not recommended. BobSkates with the double blade are not permitted for any of our programs.

All participants must dress in warm, comfortable clothing in layers, including gloves or mittens. Waterproof pants or snow pants are recommended.

While Skaters are learning to skate, figure skating dresses alone are not warm enough. Layering them over pants or warm leggings and putting a sweater or jacket on top might be warm enough.