News
UPDATED SCHEDULE FOR THURS JUNE 21
posted Jun 13, 2018, 7:05 PM
Our spring High Test Day will take place on Thursday June 21 from 6:50-8:00pm. The test day schedule will be posted shortly. In the meantime the STARSkate sessions will be changed as follows:
5:00 - 6:00 pm SS A (regularly scheduled)
5:00 - 5:15 pm SSA FreeSkate Group 1
5:15 - 5:30 pm SSA Dance/Skills Group 1
5:30 - 5:45 pm SSA Dance/Skills Group 2
5:45 - 6:00 pm SSA FreeSkate Group 2
6:00 - 6:40 pm SS B/C
6:00 - 6:15 pm SS B FreeSkate Group (optional participation)
6:15 - 6:30 pm SS B Dance/Skills Group (optional participation)
6:40 - 6:50 pm Flood
6:50 - 8:00 pm Test Day (schedule to be posted shortly)
SUMMER STARSKATE OPEN ICE
posted Jun 12, 2018, 8:40 PM
Dear STARSkaters,
Our summer season at WTSC runs from July 3 to August 23 and we are excited that it will be more flexible than ever for our STARSkaters!
We will offer open ice to STARSkaters from 6:00 to 8:00pm every Tuesday and Thursday through the summer. STARSkaters wishing to skate on open ice may purchase a FlexPack consisting of 4 one-hour tickets to be used on any session during the summer. The FlexPack costs $80 ($20 per ticket) and each ticket may be used for a one-hour skate starting at any time during the open ice session. Any extra time beyond the one hour will require the skater to pay $10 at the office. STARSkaters may come for all or part of an open ice session and there is no longer any need to register for the entire month.
There will be a maximum of 20 skaters on each open ice session (first come first served) and skaters are encouraged to be especially mindful of our updated right of way protocol (see Skaters' Etiquette below) to safely share the ice with all levels of STARSkaters.
Skaters without FlexPack tickets will be charged a guest skating fee of $25 per hour (or part thereof), so skaters are encouraged to take advantage of the FlexPack option which may be purchased online here. Skaters wishing to participate in our summer test day (tentatively August 23) will need to purchase 2 FlexPacks in order to be eligible.
Any questions regarding the summer FlexPacks may be directed to our Treasurer Yi-Wen Hsu at yiwenhsu@hotmail.com. Happy summer skating!!
WTSC
Skater's Etiquette (Revised April 2018)
1. Courtesy: Courtesy is first and foremost. It is essential to respect the rights of other skaters and be aware of who is around you at all times. If you are skating with skaters of significantly greater or lesser skills, be especially careful to avoid collisions. If you get in another skater's way, please be polite and apologize.
2. Right of Way: First priority is given to skaters who are skating to their solo or dance music. Second priority is given to skaters in a private lesson. Give these skaters the right of way at all times. Skaters with the right of way must also remember to keep an alert eye open to avoid collisions and may respectfully remind others of right of way (e.g. "excuse me").
3. Spins should be performed at the centre of the ice surface, and jumps should be at the ends and in the corners.
4. Do not spend most of your time in the corners. Skaters who are practicing the Lutz may not see you as they enter their jump.
5. If you fall down, get up as quickly as possible. If someone falls and does not get up on their own, do not move them. Get a coach to assess the injured skater. In the meantime, have someone stand "guard" over them to make sure other skaters avoid collisions with them.
6. When you are practicing elements like camel spins and back spirals be especially aware of the danger your exposed blade poses to other skaters. Take a good look at your expected "space" before you start the element, and do not proceed with the element if it looks like you could cause a problem.
7. Don't stand around on the ice to "chitchat". You interfere with and/or present a hazard to other skaters, and you are wasting your practice time and money. Skaters are expected to be skating at all times while on the ice.
8. No food, gum or drinks on the ice surface (only water at the boards is allowed but no glass bottles).
9. No kicking holes in the ice.
10. No wearing earbuds/headphones on the ice.
A SUCCESSFUL STARSKATE GALA!
posted Jun 12, 2018, 7:34 PM
We were thrilled to host our 5th annual STARSkate Gala last week. We have uploaded pictures which can be found under the STARSkate -> STARSkate Gala tab. Congratulations to all our skaters, we are so proud of all that you have accomplished this season!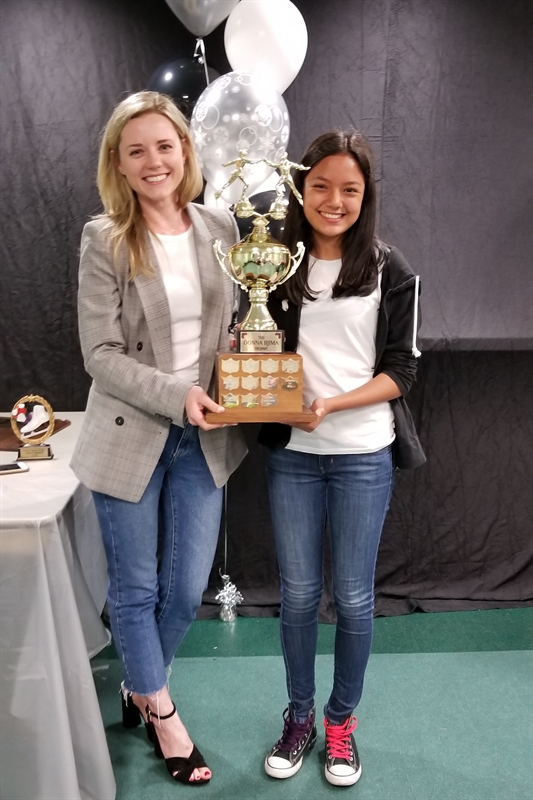 5TH ANNUAL STARSKATE GALA
posted May 31, 2018, 4:34 PM
We are excited to hold our 5th annual STARSkate Gala on Wednesday June 6 from 7-9pm in the Nixon Room. All skaters that were registered in STARSkate for the Fall/Winter 2017-18 season are welcome to attend. Parents are also welcome to attend and there are no additional fees. Hors d'oeuvres and drinks will be served.
Our skaters have worked very hard this past year on the ice and we'd like to give them the recognition they deserve. It was a busy season with many test days and lots of outside competitions. Even if your skater hasn't taken part in testing or competitions, we'd still love to have them join us, cheer on their skating friends and see what lies ahead for them.
Please RSVP no later than Thursday May 31 online (or click on the Registration tab, and then "Purchase other Products"). Please order 1 ticket per attendee (ie Skater + 1 parent=2 tickets).
We hope to see everyone there!
TEST DAY - THURS APRIL 19
posted Apr 12, 2018, 3:18 PM
The schedule for the STARSkate test day has been posted on our website. Visit the STARSkate drop down menu -> Test Day to view the schedule. Wishing great skates to all who are testing!

STARSKATE SHOWCASE - SAT APRIL 21
posted Apr 7, 2018, 11:38 PM
To end a fabulous Fall/Winter season, the STARSkate exhibition is a great opportunity for our figure skaters to show their stuff, have a little fun, and entertain families and friends within our skating community without the pressure of having to impress the judges. It is a great way to simulate a test or competition. This event will take place on Saturday April 21 from 6:10-7:00pm (after CanSkate Mini-Olympics). Each skater will have the big ice surface to themselves to shine. We encourage skaters to perform their solo dance, freeskate or interpretive programs for the community.
Registration forms are now available for pick-up outside the office on the bulletin board.
All entries must be received at the Club Office no later than Saturday April 14th before 7:00 pm. Registrations will be accepted on a first come first served basis to accommodate the scheduling of events.
GREAT LEARNING EXPERIENCE WITH OLYMPIC SKATER DYLAN MOSCOVITCH AT WTSC
posted Apr 5, 2018, 10:13 PM
Our STARSkaters had a great time learning from Olympic Silver medalist Dylan Moscovitch this evening. Off ice exercises were led by Dance instructor and Skate Canada coach Samantha Skene.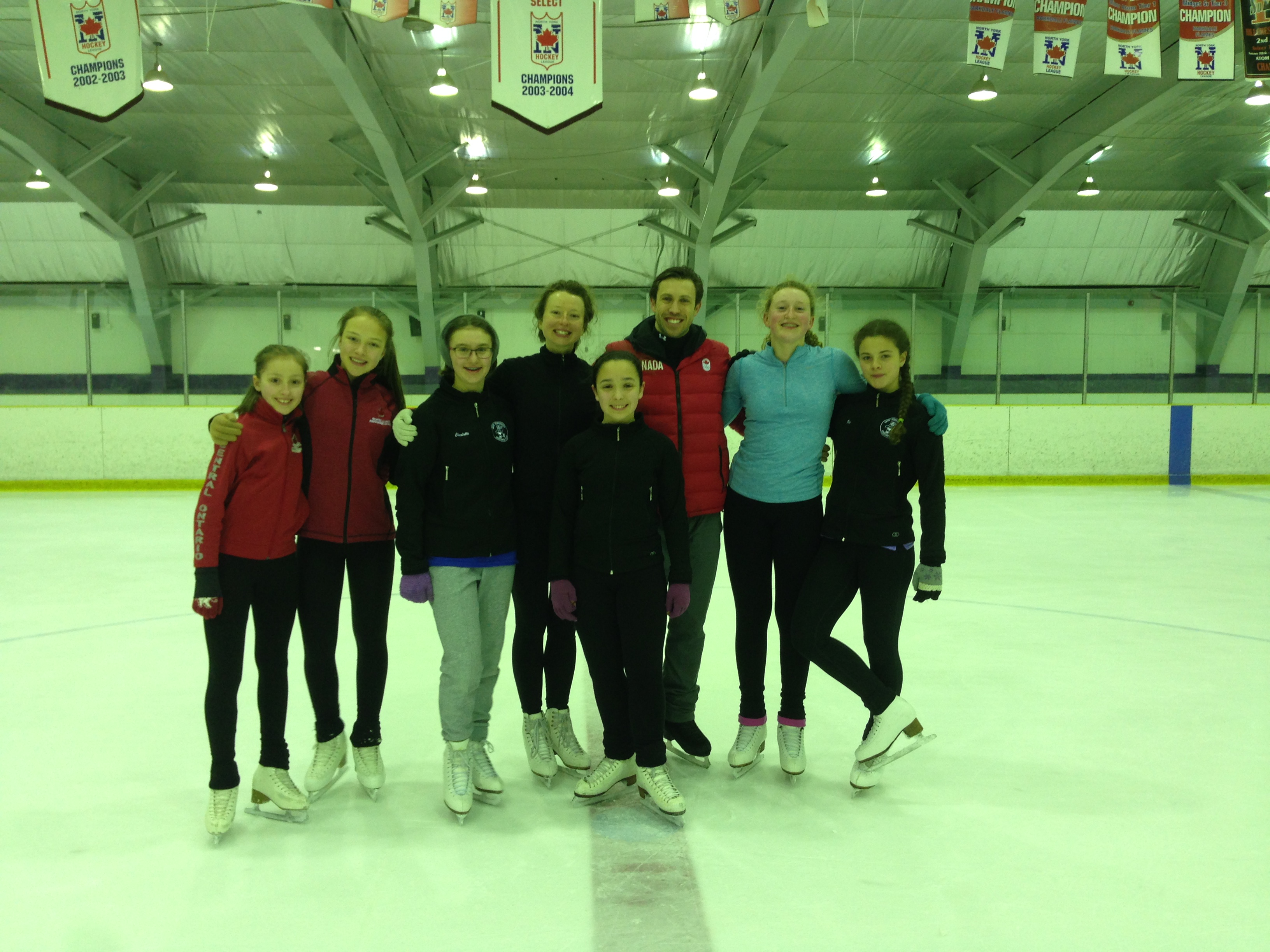 NEW SPRING CANSKATE SESSION OFFERED
posted Apr 2, 2018, 6:16 PM
Due to high demand we are able to offer an additional Pre-CanSkate/CanSkate session on Mondays 5:30-6:15pm. There will also be an additional Advanced CanSkate session 6:15-7:15pm. We strongly suggest registering as soon as possible, as most other programs are already full to capacity.
EASTER SCHEDULE
posted Mar 26, 2018, 4:06 PM
Saturday Mar 31 - All sessions cancelled
Monday Apr 2 - All sessions running as scheduled
COMPETITION UPDATES
posted Mar 26, 2018, 3:46 PM
The groups & schedule for Fun Competition in Innisfil have been posted
The groups for Scarboro Skate has been posted. The schedule should be posted shortly. Visit the Skate Ontario Website for all current information.

Good luck to all our skaters competing!
WTSC SKATERS FEATURED IN CBC'S PROMO FOR WORLDS!
posted Mar 21, 2018, 6:53 PM
CBC caught up with some of our own WTSC skaters before World's start today. Watch them online here
Watch World's online at CBC
| | | |
| --- | --- | --- |
| Thu Mar 22 | 5:05 AM | World Figure Skating Championships: Men Short Program |
| | 1:55 PM | World Figure Skating Championships: Pairs Free Program |
| | | |
| --- | --- | --- |
| Fri Mar 23 | 6:00 AM | World Figure Skating Championships: Ice Dance Short Dance |
| | 1:30 PM | World Figure Skating Championships: Ladies Free Program |
| | | |
| --- | --- | --- |
| Sat Mar 24 | 5:00 AM | World Figure Skating Championships: Men Free Program |
| | 10:20 AM | World Figure Skating Championships: Ice Dance Free Program |
| | | |
| --- | --- | --- |
| Sun Mar 25 | 8:30 AM | World Figure Skating Championships: Gala |
SPRING REGISTRATION OPENS FRIDAY MARCH 9 @ 10AM
posted Mar 6, 2018, 1:07 PM
Registration for Spring Skate will open on Friday March 9 @ 10am.
Pre-CanSkate/CanSkate/Adv. CanSkate:
If you are unsure which CanSkate program to register for and are a returning skater, please register for the same program as the Winter We will adjust registrations as needed based on final report cards in April.
All skaters new to WTSC must register for Pre-CanSkate. There you will be assessed and placed immediately into a group based on your skill level.


STARSkate:
Requirements for the Spring Season remain unchanged. However the requirements have been updated to the new STAR 1-5 Format.
STARSkate A: Must have passed CanSkate Stage 6
STARSkate B: Must have passed all STAR 3 tests (dance, skills, freeskate)
STARSkate C: Must have passed STAR 5 Freeskate (elements and program) AND SR Bronze Skills or SR Bronze Dances

Summer registration will follow shortly. Details to follow.

MARCH MANIA SCHEDULE HAS BEEN POSTED ONLINE
posted Feb 14, 2018, 10:27 PM
The schedule for March Mania has been posted on the Skate Ontario Website. The groups should be updated and posted shortly.

Good luck to all our skaters competing!

FAMILY DAY CANCELLATIONS
posted Feb 12, 2018, 7:10 PM
All sessions will run as scheduled on Saturday Feb 17

All sessions are cancelled on Monday Feb 19
Enjoy the long weekend!
SCARBORO SKATE COMPETITION IS OPEN FOR REGISTRATION.
posted Feb 12, 2018, 5:15 PM
Scarboro Skate is now open for registration. Details can be found here and registration closes March 7.
AMENDED SCHEDULE FOR TUES FEB 13 - HIGH TEST DAY
posted Feb 1, 2018, 10:31 PM
Due to test day, the schedule on Tuesday Feb 13 will be amended as follows:
SS A

5-6

pm SSA Group 5-5:30pm
SS B

5-640pm

without break
(No flood

at 6-6:10pm

)

SS B/C dance group 6-6:30pm-private lessons & independent practice during group time allowed for skaters testing.

SS C 6-6:40pm
10min practice time at end from 6:30-6:40pm
--- FLOOD 6:40-6:50pm ---
Test Day 6:50-8pm!
FUN SKATE COMPETITION IS OPEN FOR REGISTRATION.
posted Jan 24, 2018, 5:30 PM
The following event registration will open on Wednesday, January 24 at 4:00pm EST:
STARSKATE INVITATIONAL - BRAMPTON SCHEDULE AND GROUPS HAVE BEEN POSTED
posted Jan 10, 2018, 10:43 PM
The schedule and the groups for STARSkate Invitational on February 2-4 in Brampton have been posted on the Skate Ontario website. Please check back shortly before the event in case of any changes.
Good luck to all skaters competing!
1ST DAY OF CANSKATE
posted Jan 10, 2018, 5:52 PM
Dear WTSC Families,
we are excited to see you at the rink tonight for the first class of our Winter Session. Here are a few details to ensure the first day runs smoothly.
-When you enter the arena lobby, you will pick up your skater's name tag from the table. Skaters without a name tag will not be permitted on the ice. Please see Tanja in the office if your name tag is not there. The coaches will collect the name tags at the end of the each class, for you to pick up from the table each following week.
Monday & Wednesday Schedule:
-5:30 Pre-CanSkate/CanSkate will be on the small ice to the left.
-6:15 Advanced CanSkate will be on the large ice to the right. Please wait at the door of the rink until the coaches let the skaters on the ice.
-6:30 Pre-CanSkate will be on the small ice to the left.
-6:30 CanSkate and Adult CanSkate will be on the large ice to the right. Please wait at the door of the rink until the coaches let the skaters on the ice.
-7:15 PowerSkate will be on the large ice to the right.

Saturday Schedule:
3:15 CanSkate/Adult CanSkate/Advanced CanSkate will be on the large ice to the right. Please wait at the door of the rink until the coaches let the skaters on the ice.
3:30 Pre-CanSkate will be on the small ice to the left
4:00 Advanced CanSkate will be on the large ice to the right.
4:15 Pre-CanSkate will be on the small ice to the left
4:15 CanSkate/Adult CanSkate/Advanced CanSkate will be on the large ice to the right. Please wait at the door of the rink until the coaches let the skaters on the ice.
Please use the assigned changerooms (WTSC signs are posted on the doors) to change into and out of skating gear.
-All skaters must wear a CSA approved hockey helmet (Ski/bike/winter helmets are not permitted). The mask/cage is optional but highly recommended, especially for new skaters. Skaters with out a CSA approved helmet will not be permitted to go on the ice for insurance reasons. Please ensure the helmet fits before you come to the rink, the chin strap should fit snug under the chin (you should be able to slip a finger between the strap and chin). Here's a YouTube video on how to fit for a helmet.
-Either figure skates or hockey skates can be worn, but we do not offer rentals. Powerskate participants must wear hockey skates and full gear, and bring a stick.
-Not sure how to tie up skates for the first time, or if the helmet is fitting properly? Check out our updated CanSkate page for tips and tricks. We have also attached to this email a handy tip sheet for you to print off.
-Don't forget to wear mitts or gloves. We do sell mini gloves for $2 in the office if you forget yours.
-Layering clothing is best to keep warm and also still allow for flexibility and movement.
The first 1-3 weeks can appear to look chaotic on the ice, as our coaches are assessing skaters and getting them into groups based on their skill level. There may be some juggling around for the first few weeks until the groups are finalized. In addition to our Skate Canada certified coaches, we also have our Program Assisstants on the ice. These are our older figure skaters who help the coaches where needed.
If you have any further questions you can speak with our Coordinators (Natalie & Cristina-Pre-CanSkate & CanSkate, Jessica-PowerSkate), or Tanja in the office.
We hope everyone has a great time on the ice!